WMF
WMF Vitalis Stainless Steel Steamer Set
SKU
WM-17-4002-6040-GROUP-1
Available at:
AED 995.00
VAT inclusive (if any) - All prices are indicative only
Available at:
Engage in healthy cooking with the Vitalis Steamer from WMF. It cooks your ingredients in rising steam, without letting them come into direct contact with water. This preserves valuable vitamins and minerals. Vegetables remain tender but firm, poultry remains juicy and fish does not fall apart. The Steamer prevents food from drying out or getting burnt. The excellent heat transfer of steam in it ensures that food is evenly cooked on the outside and inside.
Take a look at the WMF Vitalis Steamer in action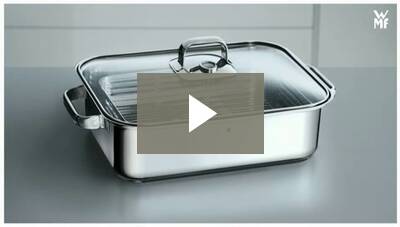 How it works
The Vitalis Steamer set can be used for steaming, cooking, roasting, braising and defrosting your food
The covered roasting pan and steaming rack produce a closed system
When water is brought to a boil in the covered roasting pan, steam is created
The steamer cooks the food placed on the permeable steaming rack in rising steam, without letting it come into contact with water
The integrated thermometer in the glass lid makes it possible to control temperature from the outside without lifting the lid. As a result, the cooking process is not interrupted by an unnecessary loss of energy
The roasting pan can also be used as a cooking pot, a baking dish or a serving dish
Features galore
The roasting pan and steaming rack are made from high-quality Comargan® 18/10 stainless steel. The Steamer comes with a highly polished surface to give you the best use and care properties
The Steamer's TransTherm® universal base distributes heat evenly and makes it suitable for use with all cooker types, including induction
Its high quality glass lid is heat resistant and allows you to observe the cooking process
Its stable handles stay cool. They have been ergonomically designed to provide ease in usage
The lid comes with a built in 100°C thermometer. This allows you to cook each type of food at the right temperature
Depending upon your usage requirements, you can remove the edge of the two-piece steaming rack
WMF has been setting high standards in the culinary industry since 1853. Whether its food prepping, cooking, dining or drinking, WMF has exceptional value to offer in every aspect. From preparing different ingredients, to cooking with innovative cookware and frying pans, dining with cutlery that sits comfortably in the hand, adorning your table with stylish carafes or sipping espresso, WMF makes every experience special. Also, WMF's success in this is shown in the numerous design awards that the company receives year after year.
Tavola - UAE : Tavola is the exclusive retailer in the Middle East for high quality European brands as: ALESSI, WMF, Zwilling Henckels, ASA, Sambonet, ALFI, IVV, Emile Henry, Silit, Bamix of Switzerland, Cuisinart, Magimix, Mauviel, and other top worldwide brands including Global, Microplane and many more! Everything you need for fine kitchen, baking and tableware! Any Tavola item is the perfect wedding gift for any couple who enjoy cooking. You can also find birthday or house-warming party.