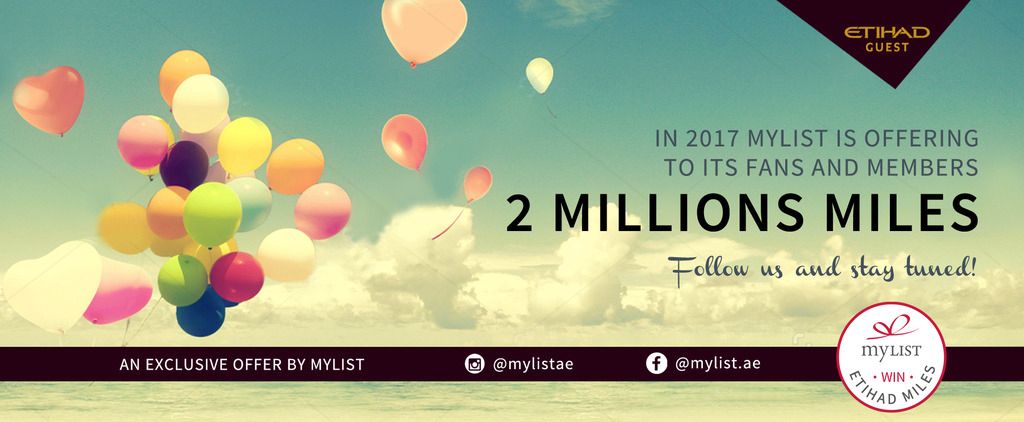 MyList has partnered with Etihad Airways frequent flyer program - Etihad Guest - to offer increased benefits to its members.





      

YOU CAN NOW REDEEM YOUR ETIHAD GUEST MILES WITH MYLIST GIFT CARDS


MyList Gift Card allows you to shop in over 100 different stores over the region: from jewellery to home furniture, electronics, travel, appliances or baby items, get the chance to turn your Miles into anything you wish for!

Click here to discover all the stores you can use your MyList Gift Card in.









THE MORE GIFTS YOU GET, THE MORE MILES YOU GET!
As a MyList registry owner, you can now gain Etihad Guest Miles when you receive gifts! For every AED 5,000 you receive on your list, you will get 5,000 Miles for free!*

THE MORE YOUR GUESTS OFFER, THE MORE MILES THEY GET!
Your guests will also benefit from this exclusive partnership: if they participate to your registry with more than AED 500, they will receive 1 Etihad Guest Mile per AED spent!*

* These offers are valid until December 31st 2017

Take advantage of our exceptional limited offers this year to WIN some EXTRA ETIHAD GUEST MILES. Stay tunned to make sure you won't miss them.


THIS MONTH - WIN 50,000 ETIHAD GUEST MILES by SHOPPING AT MARINA HOME!

This month, it is very simple! We are giving away 50,000 Etihad Guest Miles for free to the person who will spend the most in Marina Home with their MyList Gift Card.
The winner will be announced on December 1st and contacted directly by MyList team.
So get your MyList Gift Card ready and see you at Marina Home!



CONGRATULATIONS TO OUR WINNER:

Vhina Caeg-Castante Pascual 
Thank you for sharing your beautiful proposal story with us!
---


TERMS & CONDITIONS

1. WHO CAN APPLY?
Any United Arab Emirates resident above 18 years old.

2. HOW TO ENTER?
Go to any Marina Home store in the UAE and shop in-store with your MyList Gift Card or MyList eGift Card. The person who will spend the biggest amount with their Gift Card by the end of the month will win 50,000 Etihad Guest Miles.

3. IMPORTANT DATES
The contest begins on November 16th and ends on November 30th at 12 midnight GMT.
Winner will be identified from Marina Home and MyList sales data amongst all qualified participants who meet the terms & conditions of this contest on December 1st 2017.
Potential winner will have 5 days to respond and claim the prize; otherwise an alternate winner will be drawn. It is the entrant's responsibility to keep the email address or phone number updated to enter the contest valid until the end of the contest if they wish to be notified as a potential winner.

4. PRIZE
50,000 Etihad Guest Miles.
For more details: www.mylist.ae/etihad
Kindly note:
- The miles are valid for a period of 2 years
- The miles cannot be exchanged for cash

Please refer to Etihad Guest Miles Terms & Conditions here: http://www.etihadguest.com/en/terms-and-conditions/

By entering this contest, the winner agrees to have their names and pictures used as winners in this contest and published on MyList and  Etihad websites and social media channels (or any other media approved by MyList and Etihad).