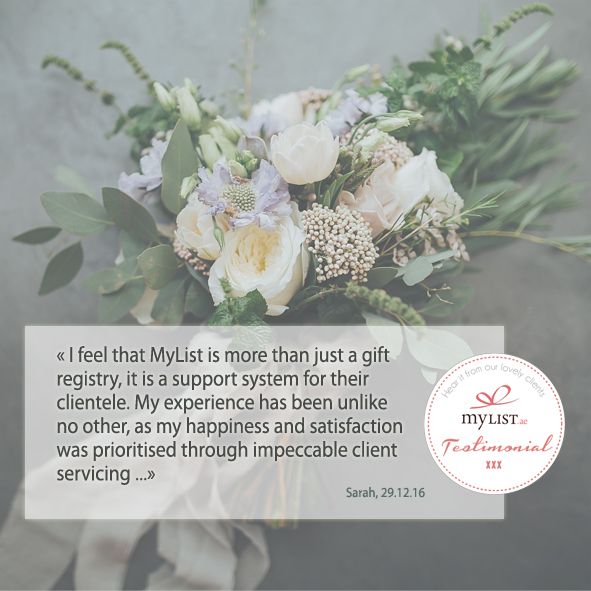 Planning a wedding can be a daunting experience for most brides. Filled with excitement and chaos from picking out the perfect invites to a great venue, the little details count in leaving an impression and creating a memorable experience. Mylist.ae aims to provide more than a traditional service to their clients, as we aim to support our brides by taking them through a seamless process. 
Our lovely client Sarah Inam tells us about her experience with using our service.

"I first heard of MyList from my friends who had used the gift registry while planning their respective weddings, who raved of top notch client servicing and a wide range of products to choose from. I decided to sign up, as my fiancé and I had decided to get married in Dubai, and was contacted by a representative who guided me through the simple process. As a bride planning her wedding, I appreciated the genuine support provided by MyList, as it eased my worries instantly" She says!
"When I decided to select the favours for my wedding, I wanted something that would be useful, aesthetically appealing and aligned with our theme. Trying to match what I had in mind with the available options through online portals was demanding and straining. Once again, I was advised to contact MyList by my wedding stylist, and I was enthralled to find the exact favour I had in mind for my wedding. It was almost like my dream had come true in a matter of minutes, although we had a tight schedule, MyList delivered and gave me the best customer service experience I have had so far. Planning my wedding, I was constantly stressed with other vendors, and MyList lifted a massive burden off my shoulders with their perfect service. Due to last minute guests attending our wedding, we required a delivery of more favours and MyList was extremely accommodating with our requests, delivering them within the short span of a week. Just when I thought my experience can't get any better, MyList extended the usage on my Gift Cards, after they had expired. Even though I had mixed up the dates, the team was extremely understanding and without any explanations, or reasons they extended my gift card to a year. As a client, I felt that for the first time my experience had been ever so delightful." 


"I feel that MyList is more than just a gift registry, it is a support system for their clientele. My experience has been unlike no other, as my happiness and satisfaction was prioritised through impeccable client servicing. Thank you Mylist, for making my wedding experience and the aftermath incredible, I will cherish the unforgettable memories!"  


With Love,
Sarah


29th December 2016