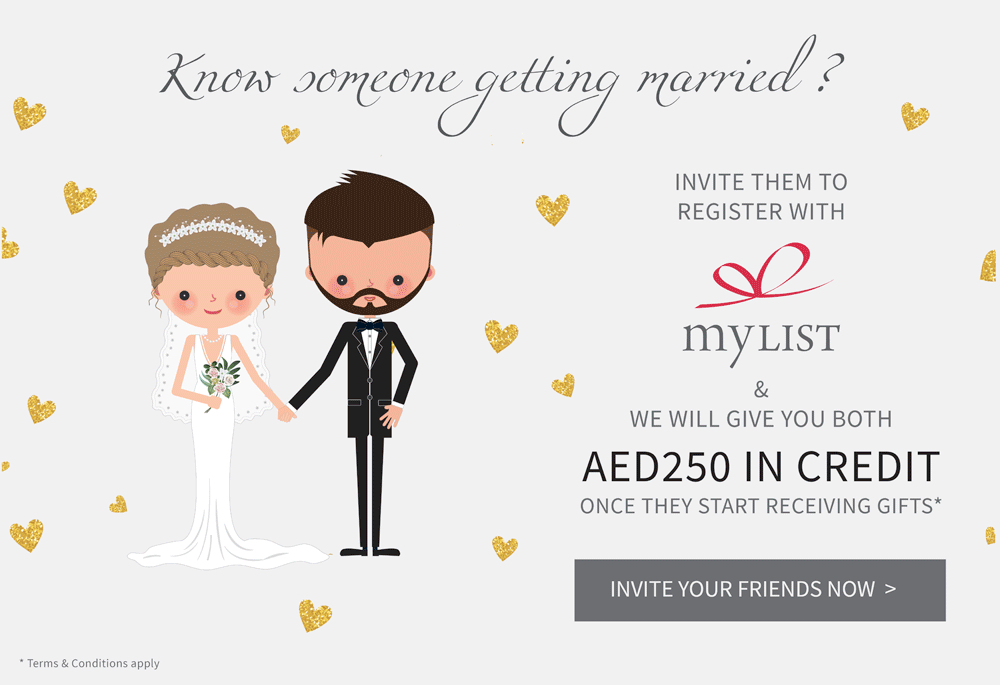 INVITE YOUR FRIENDS TO REGISTER NOW >
TERMS & CONDITIONS
1. WHO CAN PARTICIPATE?
Any person having an active gift registry with MyList in the UAE.
2. OFFER
AED250 in Referral Credit on your list and on your friend's list.
3. HOW TO PARTICIPATE?
Invite your friends who are not currently registered with MyList by clicking on the link and filling our Referral Form.
We will contat your friend to introduce our services.
You will both receive your AED250 referral creditsonly when the invited friend (a) signs up with MyList, (b) creates a wedding registry and (c)reaches contributions of AED250 or more on his/her list.
3. REDEMPTION
MyList will credit your MyList account approximately 2 weeks after your friend becomes a qualified registry (contributions of AED250 or more).
Referrral Credit earned on MyList may only be used on mylist.ae and must be used within 12 months on receiving them on your account.
Referral Credit is not transferable, may not be redeemed for cash, may not be combined with other offers & discounts, be auctioned, bartered or sold and may not be pooled with other memebers.